Nexans EHV Cable Manufacturing Facility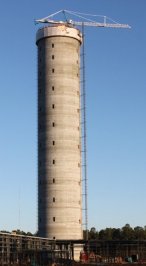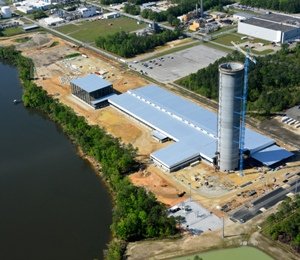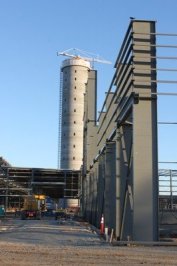 Goose Creek, SC | Contractor: Yeargin Potter Shakelford Construction Company
300,000+ square foot production facility for manufacture of undersea and in-ground high voltage power transmission cable. Project includes a 400 foot tall Continuous Vulcanization tower with fourteen floor levels. The tower is the tallest building structure in South Carolina.
Charleston Regional Business Center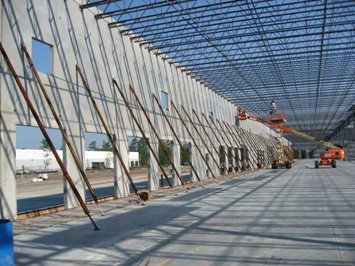 Charleston, SC | Contractor: Shelco, Inc.
850,000 square foot distribution and light manufacturing facility which included three buildings. Arrowood & Arrowood, PC designed the structural steel framing which contains reduced beam section moment frames; as well as tilt-up concrete wall panels.
Representative Industrial Projects
Representative list of Clients throughout the Southeastern United States:
SCE&G; Cayce, South Carolina; Power Generation and Transmission
BMW PDC Addition; Greer, South Carolina; Automotive
Curtiss-Wright; Shelby, North Carolina; Aerospace
Babcock Power; Duncan, South Carolina; Power Generation Services
Capsugel; Greenwood, South Carolina; Pharmaceutical Industry
Stein Fibers; Charlotte, North Carolina; Textile Recycling
Electrolux Testing Facility; Anderson, South Carolina; Consumer Products
Karostar Paper; Greer, South Carolina; Paper Recycling
Pharmaceutical Associates; Greenville, South Carolina; Pharmaceutical Industry
Constantia Hueck Foils; Columbia, South Carolina; Pharmaceutical and Food Industry
Lemforder; Duncan, South Carolina; Automotive Industry
MAGNA; Moonville, South Carolina; Automotive Industry
Eurokera; Fountain Inn, South Carolina; Consumer Products
Mohawk Industries; Landrum, South Carolina; Consumer Products
SCANA; Jenkinsville, South Carolina; Power Generation and Transmission
Duke Energy; Oconee County, South Carolina; Power Generation and Transmission
Perrigo; Greenville, South Carolina; Pharmaceutical Industry
Honeywell; Greer, South Carolina; Instrumentation
Advanced Composites; Greer, South Carolina; Thin Film
Sealed Air Corporation; Duncan, South Carolina; Thin Film
Lockhead Martin; Marietta, Georgia; Aerospace
MK Metalfollien Press Line Additions; Duncan, South Carolina; Thin Film
Additional design experience includes new facilities, additions, and miscellaneous plant work for the following industries:
Metal Fabrications and Metal Refining
Specialty Chemicals
Pulp and Paper
Building Materials
Textiles
Tabacco Processing
Through hundreds of successful projects we have gained extensive knowledge of building and foundation systems for process equipment and material conveyance systems including:
Bridge Cranes
Stamping Presses
Extrusion and Winding Equipment
Screw and Bolt Conveyors
Refuse Handling